Mercedes

Once again 2015 was a season dominated by Lewis Hamilton and Nico Rosberg in Mercedes cars. The team retained their constructor's championship while Hamilton remains drivers champion for another year. The team commanded the season, securing 18 poles, 15 front row lock outs, 32 podiums and 16 wins. One of their weakest areas in 2014 was car reliability, which is something the team have clearly worked on for this year as they only suffered two real retirements. The team wrapped up the constructors in Russia. And one race later Hamilton secured the drivers' championship with three races to spare. While the pace shown by Nico at the end of the year seems to suggest the German has found form once again to win. That's not to say the team haven't had issues. The tension between their drivers is still clear for all to see. With flashpoints like China and the USA showing both drivers still have some unresolved issues with the other. While Monaco proved that sometimes the team is their own worst enemy, with the pit stop blunder for Hamilton costing him the chance of victory. Overall the Mercedes team once again established their rank as the undisputed champions in F1 right now. Good preparation and possibly a few team bonding exercises will be key for a good start to the 2016 season.
Ferrari

It's fair to say the prancing horse is back! After what can only be described as a dismal 2014 with only two podiums, and a winter of firings, anticipation to see what the Maranello based team could do was rife. Especially as four time world champion Sebastian Vettel was joining the team. And with the only other pole position of the season, 15 podiums, and 3 wins the team has shown their potential. And reminded fans you can never discount them as a threat to the championship. They've been the team to capitalise and pounce when Mercedes have faltered. A key moment for this was Seb's 2nd place in Monaco, curtesy of Mercedes pit stop blunder. But races such as Singapore and Malaysia showed the Ferrari does have the outright pace and potential to beat Mercedes. Strategy was the main factor of the Malaysian win. But with pole position and the race win Singapore was the first time the Mercedes looked to be truly beaten in the new hybrid era. Reliability has been an issue that has plagued them however. With the brunt of retirements being taken by Kimi Raikkonen this year, including a potential podium in Hungary, that so easily could have been a Ferrari 1-2. With promise of a better engine to rival the Mercedes power plan for next season Ferrari looked to once again be strong contenders. But a key area they will need to work on is reliability if they want to maximise their chances of beating the Mercedes team.
Williams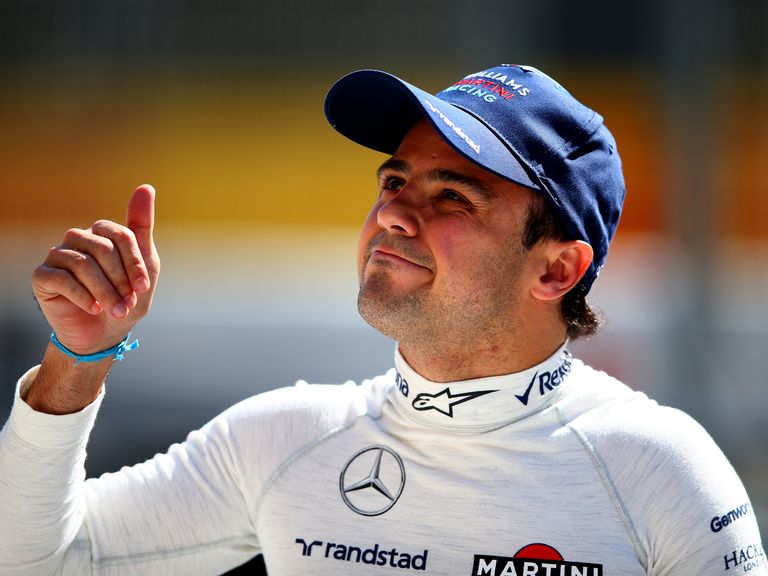 2014 was a resurgence for Williams, with the team securing 3rd in the constructors championship, much to the delight of the team. While they showed some serious race pace towards the end of the season. Even scoring a double podium in Abu Dhabi. Expectation for 2015 was high for them. And while the team have held onto 3rd in the constructors again it feels like a slightly underwhelming year. With only 4 podiums this year to the 9 they scored last year. Like many fans of the sport it's fair to say Williams didn't seem to predict the resurgence of Ferrari, who have taken many of those podiums from them. This has been coupled with some silly mistakes by the team in pit stops especially . Such as sending their driver out on two different compound tyres, or releasing them prematurely into the path of another car. Regardless of these problems the team has resolved to remain positive. With highlights of their year including leading a 1-2 at the British Grand Prix as well as securing 5th and 6th in the drivers title. Both Felipe Massa and Valtteri Bottas have taken part in some good wheel to wheel driving this year. 2015 has been a good year for the Williams team in terns of stabilising their 3rd place in constructors. For 2016 the team need to invest to catch up to the likes of Mercedes and Ferrari. And if they are there when the teams falter, then it could look good for Williams getting that elusive win.
Red Bull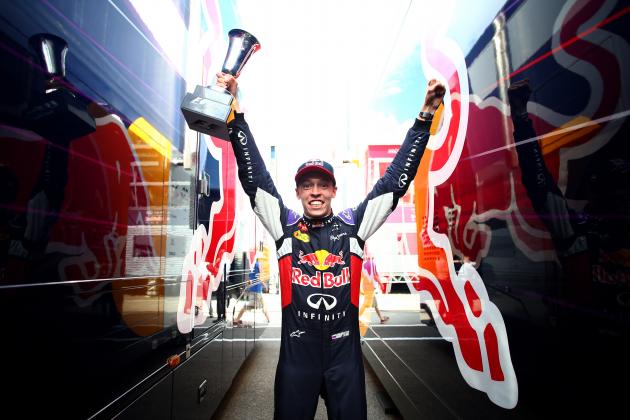 Well how the mighty have fallen. Two years ago Red Bull stood as the undisputed champions of F1. Winning four constructor's and driver's titles on the bounce. Fast forward two years and they've failed to secure a win for the first time since 2008. The team have battled long and hard, and have had some good results. A double team podium in Hungary and a second place for Daniel Ricciardo in Singapore have been the highlights of the year. While the two drivers have put on some impressive displays of overtaking throughout the season. They've been interesting to watch in a car that is down on power. Both Daniil Kvyat and Riccardo managed to secure 7th and 8th in the drivers' championship this year, but this is a long way off of the 3rd and 5th Dan and Sebastian secured in 2014. The team have struggled on race pace, even being beaten by their junior team on occasions. Red Bull have been quick to lay the blame at the feet of their engine supplier Renault. Saying the engine the team have provided is not adequate. The team did look around for a new engine. But ultimately returned to Renault for next year. Sorting out the engine situation for 2016 is key for Red Bull. However the team need to take a look at themselves too, and see where they could improve the car.
Force India

Force India is a team that have well and truly punched above their weight this season. With just a fraction of the budget of the big teams, the midfield outfit have shown just what they are capable of. The team secured 5th in constructors and took the last two top ten positions in the driver's standings. Sergio Perez even managed to secure a podium for the team in Russia this year. Which was a great reward for all their hard work. However it was a slow start to the season. The team missed a lot of winter testing and the A spec car they drove till Silverstone was down on key things like power and speed. Indeed their results for the first half of the season show just a smattering of low end point finishes and pointless races for the team. However their debut of the B spec car at the British Grand Prix changed all of that. The team found they were able to challenge for better points positions, and as previously mentioned a podium too. The team have suffered some reliability issues, especially with Nico Hulkenburg even failing to make the start in Belgium. But overall Force India has shown their true racing potential this year. 2016 will be an important year for them. They need to show that this year was not just a fluke, and that they are capable of regularly scoring points and challenging the bigger teams on the grid.
Lotus

Honest it's impressive to see Lotus made it to the end of the season. And in 6th place in the constructors as well. The team have made no attempt to hide their financial issues from fans. With bailiffs impounding cars, tyres not being delivered, the team being locked out of hospitality homes, the employees of Lotus have had a lot to deal with this season. But it's impressive to see this has not had a huge impact on their ability to function as a team and race. They have tried their best this year to secure as many points as possible. While Romain Grosjean even managed a podium in Belgium, which even Lotus didn't seem to see coming. For the most part of this season Lotus have been in a fight with Force India and Toro Rosso for positions in the constructor's championship, which has been joy to watch. With the midfield teams so closely packed together the racing here has often been more entertaining than what's been happening out front. The bulk of the team points came from Romain, who scored 51 points. While Pastor secured nearly half Romain's total with 27 points. Pastor had a string of DNF's at the start of the season, some were accidents, while others were reliability issues. For 2016 things are set to change for the team once again. With lead driver Romain off to new team Haas and Jolyon Palmer taking his place. On top of this Renault have once again bought the team, meaning the 2016 Lotus Renault could be even stronger. And the fight for 5th in the constructors may heat up again.
Toro Rosso

With a combined driver age of just 37 years at the start of this season it's fair to say all eyes were on the youthful Toro Rosso team. The team appointed teenager Max Verstappen and 20 year old Carlos Sainz Jr to drive for them, a decision that seemed to be controversial at the time. However the two have breathed life back into F1. With daring overtakes, brave decisions, and a good run of points to show for it. And even on occasion beating their big sister team Red Bull in races like Malaysia. Verstappen has been a dream to watch with two 4th place finishes in Hungary and the USA, as well as consistent points scoring throughout. Sainz too has shown his potential. While his results may not have been as impressive as Max, thanks to a string of DNF's, Carlos showed how good he was in races like Monaco. He started the race from the pit lane and drove his way to top ten in what is supposed to be one of, if not the hardest race to overtake at. Clearly both men have potential, with the team narrowly missing out on 6th in constructors. However the two drivers have shown some inconsistencies and have both committed some rookie mistakes. Most notably Verstappen in Monaco when he crashed with Romain Grosjean. But you have to remember they are rookies still learning. For 2016 the team needs to look at reliability, while Max and Carlos need to work on their performance. This year they got a pass on some mistakes for being rookies. Next year they will not be afforded such luxuries.
Sauber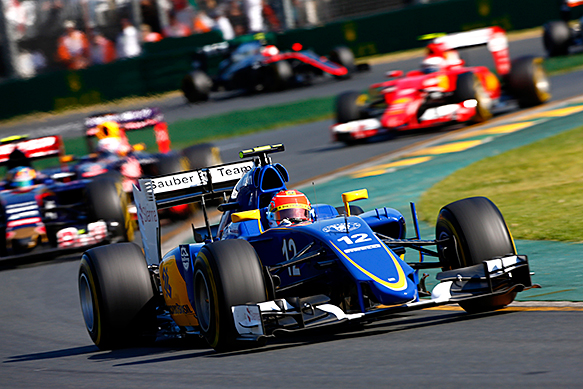 After 2014 and a pointless season where the team finished 10th in constructors behind Manor. Sauber seemed to go for an overhaul of both image and drivers. With Esteban Gutierrez and Adrian Sutil being dropped in favour of rookie Felipe Nasr and Marcus Ericson. This did lead to some legal troubles in Australia from Guido van de Garde, who mounted a legal challenge against the Swiss based team. Claiming he had a valid contact for this year. Ultimately the challenge lead to a settlement and the team were free to race on with Nasr and Ericson. With the team able to secure 5th and 8th place in Australia. Overall the team moved up to 8th in the constructors this year with 36 points between their drivers. Results have been varied but Nasr has done well, scoring 27 points and even picking up a 6th place in Russia. For a rookie year he's done a good job, but he's been overshadowed by the rookies at Toro Rosso. Ericson has struggled some more, with three retirements and a consistent string of no point finishes. The important thing Sauber should take away from this year is the consistency they've managed. They regularly seem to finish in the mid to low teens, showing that clearly there is a good basis for them to work off of. Next year the Sauber team needs to look at improving the car overall, and maybe they can begin to worry the Toro Rosso team more in the constructors.
McLaren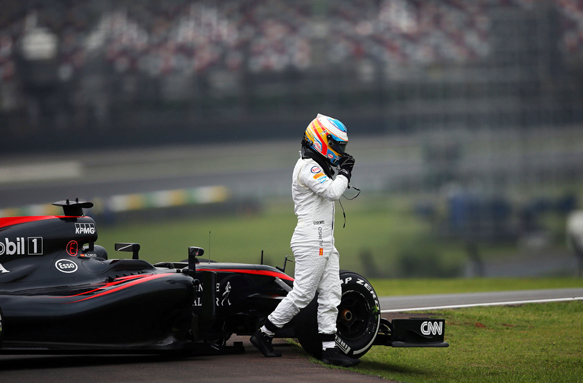 Well I'm pretty sure as I write this the McLaren duo of Jenson Button and Fernando Alonso are currently covering the MP4-30 in petrol, lighting a match, and torching that car. It has been an abysmal year for the team and their former world championship drivers. With just 27 points they finished second from last in the constructors this year; with a fifth place in Hungary from Fernando their best result. There have been some good moments for the team. Jenson scoring the team's first points in Monaco, while he fought hard for 6th place in the US Grand Prix. But the reality is this year has been dire. Honda has failed to come through with their promise of turbo engines capable of producing points and podiums. The team has been beset with engine problems since pre-season testing, where Fernando had a strange accident that still hasn't been fully explained it feels. Kevin Magnussen filled in for one race that just ended up being an underwhelming qualifying, followed by the car breaking down on the way to the starting grid. It took till Monaco for the team to score just a few points. From a team who scored two podiums at the opening race last year to a team who could barely scrape into the points at most races this year, it's been a hard year for them. At races where engine power is not as key as downforce the McLaren has shown they are capable of scoring points. However if the team want any chance of being competitive next season they drastically need to work with Honda on the engine.
Manor

The 10th place team and the only team who fail to score a point this season, Manor once again show their fighting spirit in a tough season. It was a challenge for the team to even make it to the grid in Australia, and indeed Will Stevens and Roberto Merhi didn't even turn a wheel at the first race of the season. Since then the team have fought on. Regularly aiming to take advantage of drivers having bad races. Races like the USA saw the team on the outer fringes of the points. With five race driver Alexander Rossi scoring a 12th place for the team. While Roberto scored a 13th place just the race previously in Russia. While Hungary and Japan were emotional point for the team. Dealing with the loss of driver Jules Bianchi and returning to the circuit a year on from his crash. For 2016 the team will feel the loss of Graeme Lowdon and John Booth I'm sure. But they also look to be getting a competitive boost. Mercedes will be supplying the engine for the team while Williams will provide the gearbox on the Manor. If the team are able to get the car working in harmony then they could be a threat for the lower mid field next year, and who knows. There may even be the chance of world championship points for the team to go with Jules' from Monaco in 2014.
Images: http://www.mirror.co.uk/sport/formula-1/mercedes-chief-toto-wolff-happy-5848146, http://www.todayonline.com/sports/motor-racing/sebastian-vettel-claims-victory-singapore-grand-prix, http://www.sportinglife.com/formula1/news/article/669/9857686/monaco-grand-prix-betting-tips-tom-millard-backs-felipe-massa-for-a-podium-finish, http://bleacherreport.com/articles/2535882-daniil-kvyat-proves-himself-at-red-bull-with-1st-f1-podium-at-2015-hungarian-gp, http://www.thisisf1.com/2015/10/13/the-best-pictures-from-the-russian-grand-prix/, http://whoobazoo.com/draftingthecircuits/2015/09/01/f1-ready-to-take-on-monza-and-the-italian-tifosi/, https://www.formula1.com/content/fom-website/en/latest/features/2015/10/paddock-postcard-from-austin.html, http://www.autosport.com/news/report.php/id/118085, http://www.autosport.com/news/report.php/id/121812, http://motorsports.nbcsports.com/2015/10/23/the-rossi-effect-how-an-american-hitting-the-grid-has-boosted-f1-in-the-states/
code Copy and paste this code on your eligible site thefootballforecast.com